Magento vs Shopify: Which should you choose?

Fama Tech
Shopify and Magento are two of the most popular and credible eCommerce platforms today. However, if you're a business owner planning to set up your enterprise online, then chances are you're still unsure about which platform is the right one to use for your business.
Shopify and Magento Community Edition
Selecting the most suitable ecommerce platform for creating, managing and maintaining an online store is of a critical importance, as it can be the factor responsible for either success or failure for your business. This is particularly important for a small business since it has to make do with limited resources and budgets.
As someone planning to create an online store or migrate your current store to another platform in the near future, you might be considering your options. Shopify and Magento Community Edition (aka Magento) are two widely acclaimed and used ecommerce store creation and management platforms today. There are, however, some huge fundamental differences between these platforms that you should be well aware of before making a comparative evaluation of the two:
Shopify is a commercial product (that you need to pay for) while Magento Community is a free, open-source software

Shopify is a hosted solution (where your store is hosted by them) while Magento requires that you provide your own hosting, install, setup and configure everything before you can actually start creating your store – something requiring medium to high level of web development and programming skills.
With these two important difference in mind, here is a head-to-head comparison between the two platforms: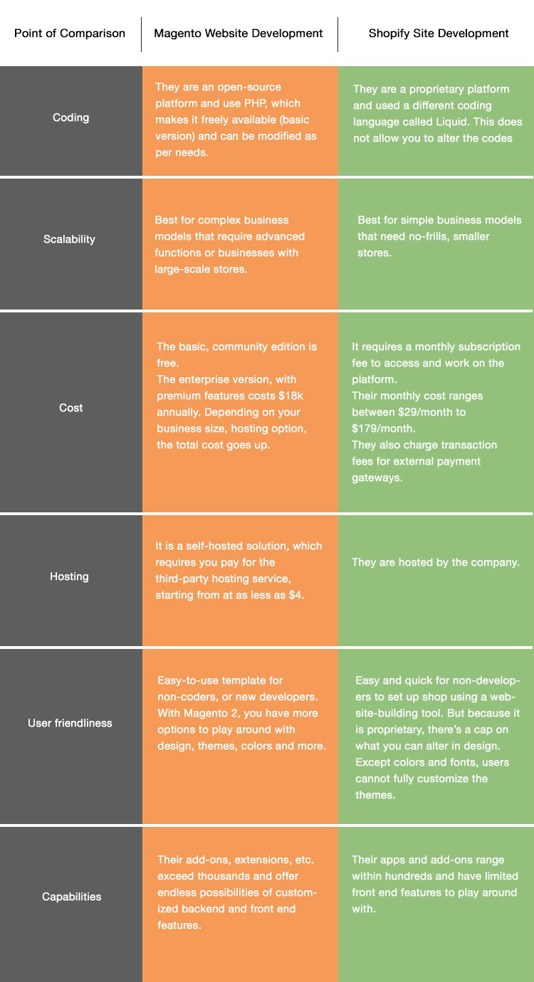 Magento ecommerce development shopify ecommerce development
Conclusion - 
What should you pick for your business?
While both the Shopify and Magento Communities are fairly powerful ecommerce hosting platforms, Shopify provides greater ease of use since it is a hosted and fully managed service.
Magento, while free itself, requires you to purchase hosting and carry out all the software/system setup and installation procedures yourself – something that only fairly tech-savvy people (and not typical end-users) would be able to do.
Shopify comes out a winner as an ecommerce platform for building your online store with maximum ease of use and powerful capabilities.